Overview
Outsourcing vs. in-house medical record review services, confused on how to proceed with the medical record reviewing? Follow me till the end, and I am sure you will say, "Yes, now I know what to do."
Before digging deep into this topic, we will quickly look at what the term 'medical record' refers to. Let us presume that an individual is encountering a car accident and getting injured. Obviously, he would seek medical attention, during which a medical chart would be generated. Let us see what type of data the medical record would reflect.
Demographic data
Location of injury, signs of fracture, if any
Previous medical history
Preliminary diagnosis of the physician
Diagnostic tests suggested by the physician
Laboratory reports
Details of medication if prescribed
Details of surgical procedures, if any
In short, a medical record is the documented storehouse of an individual's clinical data, which serves as evidence of his medical encounters. It is considered the actual plot of a story because we claim compensation for the injuries caused by an at-fault person or a business. Medical charts act as crucial evidence in such litigations. They determine the success of a legal battle involving injuries and damages of the claimant.
Can medical charts be used as such in a lawsuit?
No. Medical records are hulking with the whole medical history of the claimant. Filing a lawsuit does not require the entire data present in the medical chart. For instance, if it is a car accident claim, the medical data required would be only the injuries and illnesses pertaining to the accident. Yeah, medical encounters with some pre-existing conditions may also be required under some circumstances.
How is the relevant medical data filtered out?
Medical record review and analysis is a process that filters out and scrutinizes the relevant clinical data from the entire medical database of the claimant. Let me make it clearer to you. If I plan to claim compensation or insurance for a personal injury, my medical record would be the first line of evidence. The lengthy medical record would be reviewed and converted into an easily accessible form for the claiming process.
You will understand more about the process as you read further.
Importance of medical records review
Medical records review and analysis are very crucial in medico-legal cases like personal injury, medical malpractice, mass tort, and workers' compensation. They act as solid evidence for the attorneys and paralegals to substantiate insurance claims. Healthcare sectors also utilize medical chart reviewing to provide better services, thereby ensuring patient safety. We will be discussing more on medical record review for law firms.
How to do a medical chart review?                   
'Medical chart review.' Sounds very simple right? I can't blame you for that. But the process is not an easy one unless it is done by a medical records review analyst. Let's grasp the stages of medical chart review in simple steps.
Collection of medical records
Organizing the reports and collecting the misplaced records, if any
Detailed study of the clinical findings in the report
Clarification with the concerned physician for any doubts
Preparation of the report with chronology
How does a law firm conduct review of medical records? How do they know the importance of treatments, diagnosis tests, and medications?
Reviewing medical records could be carried out in-house, or the process could be outsourced to medical record review companies. Let's see how the process is classified.
In-house medical record reviewing
The legal firm itself may carry out the reviewing process without depending upon any external agency for the medical record review services. The attorney would have his team carry out medical records reviews along with other usual services.
Outsourcing medical record review services to companies
Physician chart review can also be offshored to medical record review outsourcing companies. These companies would have a team of medical records reviewers who carry out the process and submit the final document to the legal firm. The report is called a medical record review report.
Medical record review services: in-house vs. outsourcing
Let us now make an in-depth comparison between in-house medical record reviewing vs. offshoring medical record review services.
Cost of the medical record reviewing process
Legal firms opting for in-house medical record reviews have two possible options. Either they should provide training to the existing team to conduct medical record reviews or hire professionals for the medical chart reviewing process. The workload won't be the same throughout the year, but the in-house paralegal team must be paid irrespective of the workflow.
The expense of outsourcing the medical review services will be less when compared to in-house medical record review. Moreover, outsourcing expenses for medical review companies will be based on medical records to be reviewed rather than paying the legal team a fixed monthly salary.
Reputed medical records outsourcing companies offer a comfortable billing cycle and convenient payment methods. Hourly pricing and per-page pricing would be offered as per the requirement of the client. Best pricing with easy payment options would make the attorney's medical record review process a smooth sail.
The expertise of the medical record reviewer
Preparing medical narrative summaries and medical chronology demands in-depth medical knowledge. The paralegals and the staff in a legal firm would definitely be able to analyze the medical data. However, understanding the intricacies of the injuries and their future setbacks would be needed in medical record reviewing, which may hurdle the in-house reviewing process.
When the medical chart review process is outsourced to a reputed medical chart review outsourcing company, the review will be carried out by experts in the field. External agencies would have a dedicated team of doctors, paramedical professionals, legal nurse consultants, data analysts, and case managers. A medical chart review done by a skilled and qualified medical chart review analyst would reflect the quality of the final report.
A qualified medical chart reviewer can easily comprehend the needs of the client. They will be able to easily identify the strengths and weaknesses of the claim from the medical charts. Identifying the missing medical charts is never hard for legal nurse reviewers.
Accuracy and precision of the medical chart reviews
The attorney or his team doesn't need to be familiar with the complicated medical terminologies and all the clinical details to be highlighted in the medical record review. Accuracy and precision will always be an advantage in outsourced medical reviews. With handwritten medical charts or prescription notes, companies offering medical record review services would dissect the records in no time. Medical terms are familiar for a professional medical record review expert, and he would crack them easily. The following add-on services would be icing on the cake while outsourcing medical chart review services.
Hotlinks/hyperlinks
PDF sorting and indexing
MED-A-Word
Missing record identification
Medical Synopsis
Treatment timeline
Pain medication chart
Pain and suffering chart
Medical chronology services, deposition summary services, demand letter services, medical records summaries, and medical narrative summaries under one roof would help the attorneys save time and effort.
Turn Around Time to review medical records
Time is precious, and when it is about a legal proceeding, each second is hefty. The time required by an outsourcing company for the medical record review services is referred Turnaround Time (TAT).
Less TAT doesn't mean a compromise in the quality of the services offered. A reputed company would carry out medical record reviews for attorneys with multi-level audits and a short TAT. They also offer expedited services for high-priority files.
It is pretty evident that the legal team cannot spend their work time entirely reviewing medical records. They will have other litigation services also to work on. Now you can compare the work speed of a legal team and an outsourcing company offering medical record review services. A law firm would find it hard to do a medical chart review and analysis in a short time when compared to independent medical review companies. This may delay the trial preparation.
Data security of the medical record review process
My medical record is my privacy. Data security is a significant concern when it comes to the medical data of an individual. Offshoring an individual's medical record to a third party is a risky affair as the records are highly confidential with private data.
Now you may think about how data security could be assured while offshoring medical record review services.
A competent medical chart review outsourcing company would have policies and standards in place to maintain the integrity of the data shared with them. They would have secure remote access, PC locking, secure premises login, confidentiality, and non-disclosure agreements to maintain the confidentiality of the medical charts they receive. The common data security standard of a company involved in medical record review outsourcing is Health Insurance Portability and Accountability Act (HIPAA).
A legal nurse reviewer would be trained to maintain HIPAA compliance and data security. Overall, the company maintains a secure work environment with robust data handling technologies that would maintain the confidentiality of the medical charts.
Maintaining a data-secure work environment and training the staff would be an expensive affair when the attorney does in-house reviewing of the medical charts.  That would demand more infrastructure and other facilities to handle the process. A standard medical review company efficiently handles outsourcing medical records management.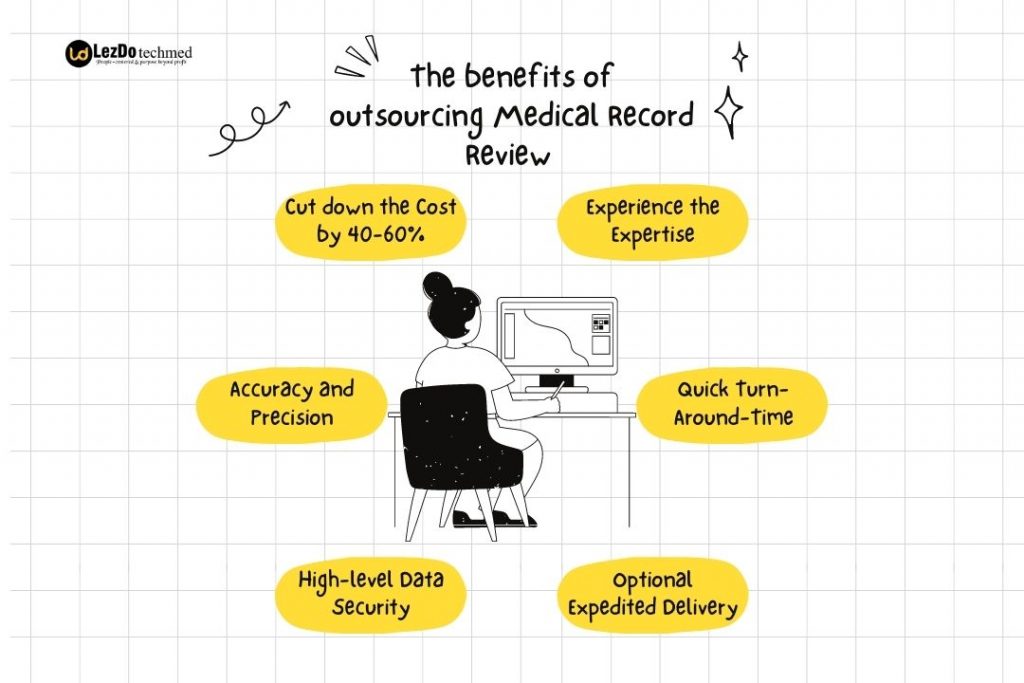 When attorneys attempt to do the medical record rveiew with the help of in-house team, it will cost an arm and a leg. Outsourcing to medical record review companies like LezDo will lessen the financial burden of attorneys.
Secure a Professional Medical Record Review Today!
Final Thoughts
With this detailed evaluation, I hope you understand that outsourcing medical record review services will always be the unsurpassed choice for reviewing medical charts. It is not just a trend but a need. When medical record reviews are imperative in medico-legal claims, the choice of companies doing medical chart review for law firms could turn the game upside down.
Outsourcing medical record review services would be one of the pragmatic picks by an attorney, and it could determine the fate of the claim and the compensation awarded to the claimant. The medical records outsourcing company should have a consistent and efficient track record with good client testimonials to provide high-class medical record review services for law firms. It will be an advantage if the organization is proficient in versatile litigation aspects like personal injury, mass tort, workers' compensation, and medical malpractice.
A successful claim depends upon how the evidence is unearthed and damages sustained by the claimant are presented. It won't be hard for a battle-scarred attorney with a customized medical record review report. A well-built claim with a precise medical record review and analysis would be an asset to an exceptionally skilled attorney to substantiate his arguments. It would be a smart choice to offshore the headache of medical chart reviewing to an experienced medical record review service. Outsourcing the medical records review service would save the time and productivity of the legal team. Cherry-picking a professed medical record review outsourcing company would make the job breezy.
Our LezDo TechMed is one of the creams of the crop medical records outsourcing companies that has proved its mettle in giving quality and effective medical record reviews in many of the personal and medical malpractice claims in the recent past.
'Look for your choices, pick the best medical record review company, then go with it.'